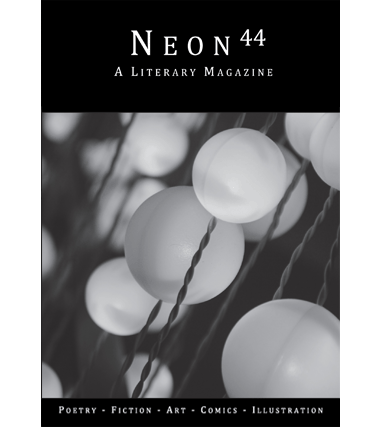 In this edition of Neon we visit the quaint yet dystopian English town of Scarfolk, observe mysterious goings on in a grand hotel, meet a rather more respectable imaginary version of the president of the United States of America in a dream prison, sit in on a number of brutal executions (one historical, one sexual) and witness the creation of some seriously amazing fantasy inventions. There's a graphic short story by acclaimed illustrator Stephen Collins, and some beautiful illustrations by Jia Sung, as well as fiction and poetry by Thomas Evans, Elizabeth Sackett, Ed Cottrell, Cheryl Pearson, Frederick Pollack, Eric Shattuck, Molly O' Brien and James Hodgson.
Neon is pay-what-you-want to download, and costs just £4.00 for a physical copy. In its perfect-bound format each issue is around 70 pages, and is photo-illustrated in black and white.
Published winter 2017 (print and online).