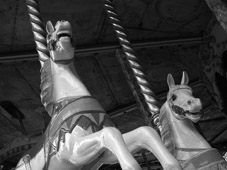 It starts before
your company holiday
party, our first fancy
invitation on the fridge. You come in,
with a thirty and a few snowflakes
on your shoulder. I'm clapping
under my chin, in the kitchen
by the ironing board. You kick
the door shut then twirl
me to the counter where we crack
beers, the iron hissing through teeth
behind us then burning. I turn
Arvo Pärt up on the speakers
and say mood music when you ask
what the hell this is. You lay
ties out on the bed, then
me, your neck wet with cologne
where I bite it. We fight
for the shower,
and the mirror, our arms
scribbling on fast forward with blow
dryers, combs, and cans, holding up
hangers and chapstick, twisting
to zip. You're mouthing we're
late! on the phone
with the cab as you slur our address
and I shrug, make like I'm slitting
my throat, run over to
squeeze you. You watch the clock
on your wrist by the door
as I click around with a blank
look, searching for better heels, tearing
through closets, tilting
to stab earrings into closed
holes. Christmas is
coming, I want more
than you know.
*
Kate Wisel lives in Boston. Her fiction has appeared or is forthcoming in The Drum, Mad Hatters' Review, SmokeLong Quarterly, Compose Journal, and her poetry in The Altar and The Blotter. She has attended writing workshops in New Hampshire and Guatemala and was awarded a scholarship to The Wesleyan Writers Conference.