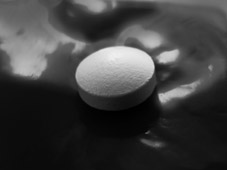 The endocrines are absorbed by the altered receptors of the brain.
Therefore the rodents start to cuddle.
It is deeper than the sea, even if it's a rodent's brain.
Though all mystery can be measured.
There's nothing in the body a surgeon's knife can't find.
The subjects I've observed don't even notice the needle anymore.
We've put them in so much love.
Don't worry. I'm just like you.
I too want that experience to be godly.
And maybe, like you, I've felt it already. And maybe, like you, I haven't.
Want remains either way a problem.
And what about those who've lost or never held it?
Can anything be too sacred for medicine?
Take a look at this century's Want.
He's right here, wearing his lab coat.
So the dosage is increased, the receptors enhanced. Suddenly, you're
finding forever-bliss in a friend, a wife, a stranger, a dream.
It's not like Soma, either. What we use is completely natural, endogenous
peptides in the brain, the source of it all.
Worst case scenario: one day, we'll wake unmedicated in our tightly
shared bed and realize that there's irony in paradise.
So be it.
*
PK French was formerly the Managing Editor of Puerto Del Sol. His work has been featured in Word Riot, Slipstream, and Harpur Palate, among others. He was the recent winner of a Kevin McIlvoy and a Peter Harris-Kunz Fellowship. He has just finished the manuscript of Love Machines and is currently seeking a publisher.