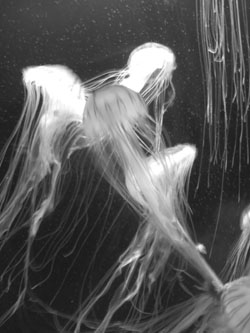 In display tanks lit an impossible blue,
divers give tentative thumbs-up,
dogfish are stroked and fed.
On the bench, a couple hissing in Italian,
cast their tanned arms again
and again into the gloom.
Suddenly, a gasp of English –
What do you want?
That.
She spits and points at my heavy bump,
then rises, heels treacherous on the stairs.
He whispers an apology and follows her,
a veil of sweat on the back of his neck.
A hammerhead can hold
a manta ray down with its skull
and bite it to pieces.
Moon jellyfish float like drowned brides
in a foreign harbour.
I flinch electricity,
my baby wheels in her water,
she won't be upturned yet.
*
Helen Addy is from Forres, in Morayshire. She has been previously published in BUGGED, Snakeskin, From Glasgow To Saturn, Shetland Libraries' Bards In The Bog project, Indigo Dreams' Heart Shoots, and has a poem forthcoming in The Lumen. She is currently working on a first pamphlet.