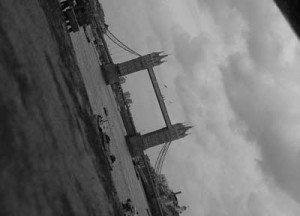 From under the bridge she watched the patrol boat scud upstream, leaving on the river a long scar.
She loathed these boats, sly in the water and always talking, loud-speakers squawking. She gathered spit and slugged it into the mud. It sat on top of the scummy layer of ice, glistening.
Winter was a fist in the face, cold punching its way through the layers she wore. She shivered, and so did the Thames. Winter was in the river – and something more.
Ruining the water, a big blister building fit to burst.
She sucked her teeth and muttered a litany of dislike for anything that altered the pattern of the tide, its ebb and flow as subtle and needful as her pulse.
Something was in the Thames, something more and worse than Winter.
A monster. Beast.
It split the river's skin, a mountain rising up.
She saw a long beak and round back gleaming grey before it went back down with a thump that reached right out to the shore, dredging sludge from the riverbed so the Thames smelled rotten, of dirt and decay.
She heard feet thudding on the bridge above her head. People lamenting: "Wail! Wail!"
She shoved her heels into the sodden bank and come upright to look. The mountain was moving in the water, the wide roll of it like oily waves riding in. It rose again, spewing spray. So big – bigger than the Sphinx – big as a house.
She saw its eye, hot and cloudy, rolling in its socket; blood gouting from its grey underbelly. Rocks from the riverbed studded its broad body.
Wail! Wail!
She shook her fist and cursed. Grabbed a handful of her treasures and threw them. Dead batteries bounced from its nose as it went under, the impact of its body drenching the derelict as she stood, sinking and stinking, at the shore.
*
Sarah Hilary won the Fish Historical-Crime Contest with "Fall River, August 1892", and has two stories in the Fish anthology 2008. She was a runner-up in the Biscuit Short Story Contest 2008. MO: Crimes of Practice, the Crime Writers' Association anthology, features Sarah's story, "One Last Pick-Up". Her work appears in Smokelong Quarterly, Literary Fever, Every Day Fiction, Ranfurly Review and Zygote in my Coffee. Sarah blogs here