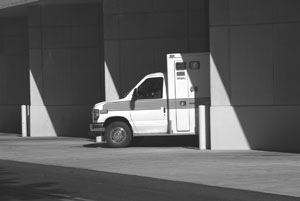 I see them coming from
behind the layer of mesh
glass    being   lead by a white
coat      to the   table of pastels
and    crayons    where us fuck
ups   scribble   serenity onto a
blank    page.     They're not
not my   friends   or family, it's
the emaciated     late teen's
next to me, the   one who's
too lost   to look    up. It's his
parents  I think by  the way
their   deflated walk   and hung
faces  greet him as  he shades
his leafless tree. It's   not till they
are behind him noting  his precise
hand that he turns   towards their
shadows and without smiling wonders
aloud why they came. Wounded, they
remind him they're his parents and that
they are here now. He shows them the
tight bracelet on his left arm and the warp
around his wrist of that drawing hand and
reminds them they weren't there then.
*
Erric Emerson is currently the poetry editor of Duende, an undergraduate journal from Goddard College, the first edition of which is due out in the autumn of 2014. His poetry has been published in Collage literary journal in the 2011 and 2012 editions. He is a poet from Philadelphia Pennsylvania, currently studying a Bachelors of Fine Arts in Creative Writing degree at Goddard College. He previously held the position of Creative Writing Club President at Brookdale Community College.