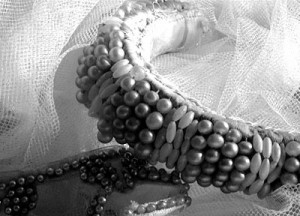 It was a Monday when my mother asphyxiated herself in our 1988 Camero, locked behind the electric garage doors that never worked when it frosted. She had three things with her: a banana skin, her wedding veil and my dad's wristwatch. She had pulled the pin at exactly three thirty to offer us the comfort of a time of death. I thought it a sad thing to do.
She hooked the hose up crookedly. When she was found it hung lazy-tongued from the exhaust. She must have suffered for minutes longer than she had to. Long minutes in that dark room, the shelves stacked with paint that had never been used, machinery that never worked.
My father had intervened in the scene of her death to skin and lacquer it. He didn't remove the banana, innocent as it was on the seat beside her. She often wore his watch and so that too he left. He hid the veil, washed the towels and took the hose to the tip. He scrubbed away every piece of her decision and when I got home from school I was greeted by an ambulance and an accident. My mother, on a cold day, started the car for warmth and sat too long in the sealed garage. Dad, in the shower to prepare for golf, unaware until he retrieved his clubs.
…
The Banana
My mother and I bought the bunch at ASDA and we argued over lady's fingers or plantains. Her teeth were weak with fillings and she insisted on buying small, overripe fruits. We compromised and bought both.
Since inheriting her aunt's chest freezer she had become obsessed with meat.
"I bought steaks a few days ago but we're out of ham. I could get sausages, does your dad still eat sausage? Isn't it terrible, I don't even remember. He made kebabs at the last barbecue. Kebabs. Honey, I think. He eats pork but he didn't like the last roast I did. Was it burnt? He wouldn't like it if it was burnt"
"Mum?"
"No you're right, I'll do a beef roast. Pork is fatty. Maybe I'll go to Trish's butcher, they do rabbit. Rabbit has no fat. Tastes like chicken, apparently. Do you like rabbit? It's expensive so if your dad doesn't like it I'll waste a lot of money. Do you think he'd like rabbit?"
"What's wrong with you? Just buy whatever."
She tilted her head to the side and stared at me. "I'll get beef."
As she filled the car I watched the flesh above her elbow fold into a sullen moon.
The house was empty when we got back.
"Your father's out."
I carried the shopping, three bags in each hand, and nodded to a post-it on the freezer. "Gone for a drink with an old work friend." I dropped the bags and handed her the note.
She turned it over in her hands.
…
Wedding Veil
She had always wanted to marry in the summer but her belly started showing late June and her mother threatened to withdraw her inheritance if she waited any longer. Dad had shown no interest in marrying her and it took my grandfather's promise of financial aid and premium real estate to sway him.
Nothing about the wedding was what she wanted. They were joined in a registry office at the insistence of a family who would not see her marry religiously. The celebrant organised carnations to be placed at the end of each aisle and my mother cried when she saw them. They were yellow and dry, petals on the red-swirl carpet like paper from a hole punch.
She dressed in a cream suit jacket and skirt with enough pleats at the waist to hide her shame. For something borrowed, her mother lent her a leather tissue case.
"Why are you crying? You got yourself into this mess, this is the best way out. Jim is a good catch. You'll never have to work."
"He doesn't love me."
"Oh, don't be stupid." Her mother went to the door and peeked out at the guests hovering over their seats. "He's marrying you, isn't he? A lot of men would have done a runner. Left you for us to deal with."
She pulled at the ruffles on her skirt, earning a slap to the wrist.
…
The Watch
She gave him a Casio watch for his fortieth birthday. It never touched his wrist.
*
Lara S Williams is a British/Australian writer who has been published or has work appearing in Voiceworks, Cordite, Antipodes, Islet, AustralianReader, Snakeskin, Blue Crow, Writer's Eye, Rose and Thorn, page seventeen, Verity La and Press 1, Magma, Island, Red River Review, Agenda, MiPOesias, Blue Fifth Review, Orbis and Neon. After creating the blog The Great Affairs she regularly self-publishes travel articles and is currently the copy editor of Open Radio North Korea in Seoul. She completed her double degree in literature and creative writing at Wollongong and Sheffield Universities and is undertaking her masters at Edinburgh in September.