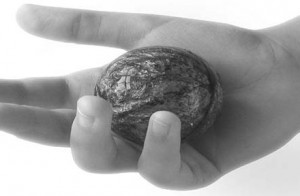 My brother and I
liked to stand, feet in
weighted boots and play
catch the easy way,
the balls curving slow.
We've matured since then –
he explores while I,
laboratory-bound,
study the things he brings
back; strange aliens.
The best place to throw
was on a moon, with
soft gravity and
gentle drops, our clasping
fingers firm around
the sphere. Our leaps drove
high, we spun, we snatched
and neither won or
lost, just passing back
and forth beneath dark
space. He liked the globe
with blue swirls best:
it promised new worlds.
I liked the red ball,
thought it looked like home.
*
Rhian Waller has recently earned an English Literature and Creative Writing BA, and is about to begin a Postgrad doctorate in Creative And Critical Writing. She has produced stories of various quality since she was five, and has published a handful of poems in magazines such as Cause & Effect and The Harrow. She would very much like to publish some more.