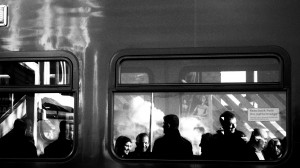 I call in sick. But I'm not sick.
For god's sake don't lose this job my wife says as she leaves.
Someone needs to be in I say.
A man has arranged to view our apartment.
I clean. I stuff clothes into drawers. Throw toys into boxes. I vacuum and spray perfume. I try to fix the drawer in the kitchen.
I stand at the window, waiting.
The intercom buzzes.
Second floor, I say into the phone. I unbolt the door and listen to his footsteps in the stairwell.
So this is it the man says.
There is no natural light in the hallway. The window looks onto a ventilator shaft.
So I lead him to the kitchen.
Is there nowhere else to keep that he says, pointing to my bike.
There are tire marks on the paintwork.
He walks to the sitting room.
I stand aside so the room seems bigger. He looks around.
Would it be for you I say.
He slides a toy box aside to get to the window. A red and white soft toy falls to the floor. It's a baseball with a mechanism inside. It makes its noise: a crash and then tinkling like broken glass.
The man tosses it back into the box. It makes its noise again.
It would be for my daughter he says.
He walks into the bedroom I share with my wife and our boy.
I pick up the baseball toy. I want to throw it at the man's head.
He walks back into the sitting room.
I won't take up any more of your time he says.
Don't you need to see the bathroom I say. It's big. And there's a room for storage.
I won't take up any more of your time he says again.
Please I say. Let me show you.
This is no place for my daughter the man says.
I squeeze the baseball hard and it makes its noise again.
*
It takes nearly a year for someone to take the apartment.
My wife tells her father we're moving.
Thank god he says. It was no place for a child that place.
*
I find the new place in a newspaper. Small house with 800sqm garden/orchard. There's no picture of the house. Just of the garden. It's a strip of land with long grass and old fruit trees.
I go to see it on my bike. The estate agent is waiting in the kitchen eating red currants he's just picked. He offers me one.
Are they safe to eat I say.
It needs a tidy-up he says. She died six months ago the old woman.
Her mail is in the hallway and her bed is in the sitting room. The blankets are drawn back like she just got up to make tea.
The net curtains are yellowing and the bathroom smells of piss.
It's more money than our apartment. But maybe I can take out a loan to tide us over and fix things up.
*
We move in time to catch the end of the harvest. We miss the apricots, but my wife makes chutneys and jams from the apples and damsons.
I hang a swing from an apple tree.
Our boy helps dig a vegetable patch.
Tell that to your father I say to my wife.
In November, the weather turns.
The heating system is old. I buy firewood and light both stoves. But the house is cold and damp. The wind gets in through the window frames.
Mould is growing on our boy's bedroom wall.
It's an old house the estate agent says. What do you expect?
Our boy has a cough that won't shift. His chest gurgles at night and he coughs until he wakes himself up.
A week back, he coughed until he was sick.
In the early hours of New Year's Day, he coughs himself sick again.
There is blood on his sheets.
We sit on the edge of his bed. My wife wipes his face with a wet cloth. She cradles his head.
This is your fault she says to me.
*
My wife sits in the back of the car with our boy on her lap. He is wrapped in a blanket. I hear her humming to him between his coughs.
I drive slowly through the dark and the snow.
It's a small hospital but I find it easily.
I fill out a card at reception and hand it to the woman. My wife is with our boy in the waiting area.
The woman checks the card.
Number three Ziegelofengasse the woman says.
She is surprised.
That was old Pescha's place she says.
Yes I say.
We thought they'd knock that place down she says.
Please I say. Not now. Our boy is sick.
That place is rotten she says. Rotten.
*
Jones Jones was born in Wales but now lives a long way away. He is working on his first book of short stories and a novella called Ysgol. He blogs at jonesjones.moonfruit.com.