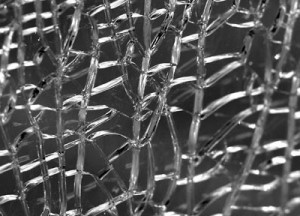 First, there is only a sense of wonder.
Simple answers tossed up like dice;
who, what, and how lying somewhere
in the sparkling flotsam of the senses.
Their fragments mix with the metal and glass.
Vision rises like a radiant blister.
The glamorous flash of exploding flowers,
gold, pink, and blue, a celebrity's welcome.
Sound will have to be added later, edited
into the flickering reel, ambient noise
nothing but the sweet shush of static.
Pain arrives slowly, shuffling, hungry,
the drag of its feet stirring the broken dark.
Tongue tests its limits – the world boiled down
to rust and salt, the thick elements
of our hearts. Here we are.
Passing seconds assemble the pieces.
The players gather, the spotlights
pour out their flares in blinding aurora.
And then, suddenly, there is only a windshield
and a star extending anemone hands
to the ends of the glass, the ends of the world.
*
Jacqueline West's work has been published in journals including Flashquake, The Pedestal Magazine, Inkwell Journal, Barnwood, St Ann's Review, and Briar Cliff Review. Her chapbook, Cherma, is forthcoming from Parallel Press. More about her work can be found at www.jacquelinewest.net.