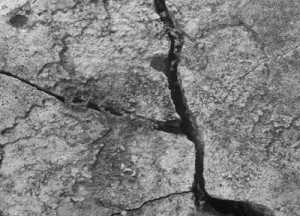 Through a hole in the roof
I watched the end of the world.
It was beautiful, nothing at all
the way its portrayed in books or movies.
I thought of calling you,
but figured you were busy taking a bath,
filing your nails
or dead, like most everyone else.
I felt sad,
remembering our encounter at the shoe store.
You walked in smelling of gasoline
and asparagus, asked for size four–
red stilettos–I brought back combat boots:
size six. You wrote your number
in lipstick in the palm of my hand.
Sitting here looking out the hole in the roof
I thought of you and me and what
could've been.
Outside everything looked like a plate of spaghetti.
I saw a man the colour of burnt earth
and moss, stumble over a sea of corpses.
He carried a bag across his shoulder.
I felt like Noah, looking out from the safety of the ark,
just after the water receded.
I watched the man bend down and scoop the eyes
out of the bodies with his thumb
and index finger, as if they were oysters.
He put them in the bag. When the weight
made him lean to one side he dug a pit
and buried the eyes.
My end of the world buzz must've worn off.
I fell asleep and dreamed you were here
dressed in your stilettos and lipstick.
When I awoke a tree had grown up
where the man buried the eyes.
It was crying.
*
Jason Irwin grew up in Dunkirk, NY, but now lives in Pittsburgh, PA. His first book Watering The Dead won the 2006/2007 Transcontinental Poetry Award and was published in 2008 by Pavement Saw Press. In 2005 his manuscript Some Days It's A Love Story won the Slipstream Press Chapbook Contest. He has also had work published in several journals, including Blue Collar Review, Miller's Pond, Sycamore Review, Confrontation, Lumina, and Off the Coast.