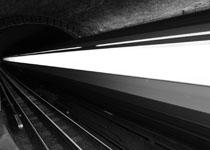 Glass crunched under my mum's car tyres as her Corsa crawled up the road, which had been clean when we drove down it a few hours earlier, before the parades passed through. As the wheels rotated I felt each chip of glass dig into the hard rubber, tearing at the air inside. The tyres fought back, powdering the glass, but it was a losing fight; the glass only needed one good hit to win.
Parade-goers still lined the roads, drinking carry-outs.
"If those hoors bastards have to have their fucking parades, they should be made to clean up the fucking roads afterwards," Mum shouted, eyeballing the nearest group.
They stepped out onto the road in front of us. Another group a bit further up, who'd heard her too, walked out to join them. A couple of the lads held empty bottles like weapons. There was no room to drive around them.
"Drive through them," I said.
My mum looked at me like she couldn't believe I'd said it. I could see the fear in her face. The group closed in, compacting themselves within spitting distance of the car. The seat below me felt unsteady, like one of the wheels had punctured.
"They're not going to hurt an old woman," I said. "Drive."
*
Gerard McKeown is an Irish writer living in London. His work has been published in 3:AM, Litro, Neon and Fuselit, among others. He has performed as support for acts as diverse as John Cooper Clarke, Stewart Home, and Frank Sidebottom. More of his work can be viewed at www.gerardmckeown.co.uk.