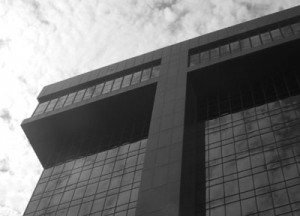 They say it might have been lightning,
maybe hail. It might have been fireworks
on New Year's Eve, drunken truckers
boot-snuffing the smouldering matches.
Somehow, they all died. A quick airborne
heart-stop–engines turned off. Wind
plucked feathers from wings twisting maniacally,
marionettes cut loose from their strings–
some skyward cemetery gutted open, raining
onto cars, small thuds on the roofs
of homes and barber shops, bird bones
breaking on impact. But who says the laws
of nature apply to these birds? Maybe this flock
gave up on the new year, a mass suicide
in protest of the shit to come. Maybe
acrophobia hit after years of cloud-
kissing. Maybe they just got sick
of flying, knowing they'd never really fall.
*
CJ Opperthauser is a Michigander. His poems have appeared in Word Riot, Temenos, and The Orange Room Review, among other places. He likes to run and fish. He blogs at thicketsandthings.tumblr.com.